Blocking Peptide Fragment from Microorganism
BPF-301
PREPARATION and SPECIFICATION
Appearance

:

White amorphous powder, lyophilized
Grade

:

GradeⅢ
Contaminants

:

Inorganic phosphate ≤0.01mg/g
Alkaline phosphatase ≤1×10⁻⁴U/mg
PROPERTIES
Stability

:

Stable at 4°C for at least 6 months

(Fig.4)

Molecular weight

:

approx. 22,000 (SDS-PAGE)
APPLICATIONS
This peptide fragment is useful as a blocking reagent for ELISA, being an alternative to BSA.
FEATURES
1. Efficiency

:

Excellent blocking performance.

(Fig.1)

2. Operation Time

:

Shorter time of operation

(Fig.2)

3. Sensitivity

:

No interference on ELISA assay

(Fig.3)
Examples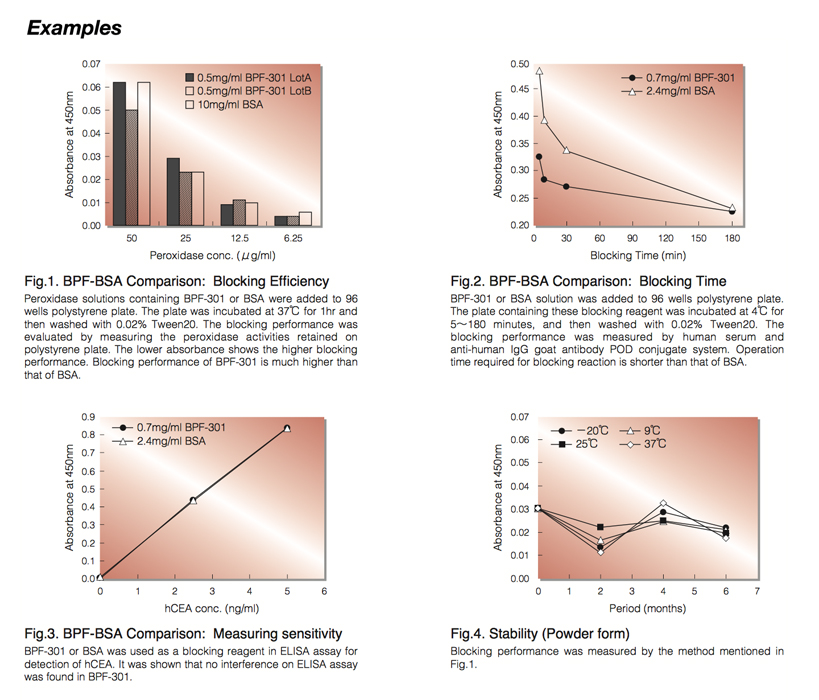 To get a quote, contact us at info@toyobousa.com, or INQUIRY.