GLUCOAMYLASE from Rhizopus sp.
GLA-111

PREPARATION and SPECIFICATION
Appearance

:

White amorphous powder (salt-free), lyophilized
Activity

:

GradeⅠ 30U/mg-solid or more
PROPERTIES
Stability

:

Stable at -20°C for at least One year

(Fig.1)

Molecular weight

:

approx. 70,000 ¹⁾
Michaelis constants¹ ⁾

:

11±1.1×10⁻⁴M (Maltose), 3.6±0.51×10⁻⁴M (Maltotriose),
2.5±0.33×10⁻⁴M (Maltotetraose), 1.6±0.02×10⁻⁴M (Maltopentaose)
Structure

:



Optimum pH

:

4.5-5.0

(Fig.3)

Optimum temperature

:

60℃

(Fig.4)

pH Stability

:

pH 4.0-8.5 (25℃, 20hr)

(Fig.5)

Thermal stability

:

below 45℃ (pH 5.5, 10min)

(Fig.6)

Substrate specificty¹· ² ⁾

:

This enzyme completely hydrolyzes soluble starch, amylopectin,
glycogen,α-orß-limit dextrin, amylose, maltooligosaccharides and panose.
APPLICATIONS
This enzyme is useful for structural investigation of carbohydrates and for enzymatic determination of α-amylase when coupled with the related enzymes in clinical analysis.
ASSAY
Principle:
glucoamylase
Starch+n H₂O ►n Glucose+Dextrin
The formation of glucose is measured as reducing sugar by the modified Fehling-Lehmann-Schoorl method.
Unit definition:
One unit causes the formation of ten milligrams of glucose in 30 minutes under the conditions described below.
Method:
Reagents
A. Starch solution

:

1.0%[Suspend 1.0g of soluble starch (Merck) in 90ml of H

₂

O, dissolve by boiling for 3min and cool down to room temperature. Add 5.0ml of 1.0M acetate buffer, pH 4.5 and fill up to 100ml with H

₂

O.] (Should be prepared fresh)
B. Alkaline solution

:

100g NaOH, 365g Rochelle salt・4H

₂

O/1,000ml of H

₂

O
C. CuSO₄ Solution

:

7.0% (70g CuSO₄・5H

₂

O/1,000ml of H

₂

O)
D. KI solution

:

30% (300g KI/1,000ml of H

₂

O)(Store in a brownish bottle)
E. H

₂

SO₄ Solution

:

25%
F. Na

₂

S

₂

O₃ Solution

:

50mM (49.638g Na

₂

S

₂

O₃ ・5H

₂

O, 4.0g Na

₂

CO₃ (stabilizer)/4,000ml of H

₂

O)
(Store in a brownish bottle and keep for 3~4 days before use)
G. Enzyme diluent

:

10mM acetate buffer, pH 4.5
Procedure
Concentration in assay mixture
Acetate buffer
42 mM
Starch
0.8%
1. Pipette 4.0ml of substrate solution (A) into a test tube (32ø× 200mm) and equilibrate 40℃ for about 5minutes.

2. Add 1.0ml of the enzyme solution* and mix
3. After exactly 15 minutes at 40℃, add 2.0ml of alkaline solution (B) stop the reaction.
At the same time, prepare the blank by first mixing the substrate solution with 2.0ml of alkaline solution after 15min-incubation at 40℃, followed by addition of the enzyme solution.
4. Add 2.0ml of CuSO₄ solution (C) and, after covering the test tube with a marble (40mmø) to prevent evaporation, place the test tube in a boiling water bath.
5. After 20 minutes, remove the test tube from a boiling water bath and cool down to room temperature under running water.

6. Add 2.0ml each of KI solution (D) and H₂SO₄ solution (E) in this order.
7. Shake the test tube and determine the amount of residual Cu⁺⁺ by titration with Na₂S₂O₃ solution (F).
8. Record the titers (ml) of the test (Δt) and the blank (Δb), and calculate the titration difference in ml (Δsample:Δb-Δt).
* Dissolve the enzyme preparation in ice-cold distilled water and dilute to 0.4-1.5U/ml with enzyme diluent
(G), immediately before assay.
Calculation
Activity can be calculated by using the following formula :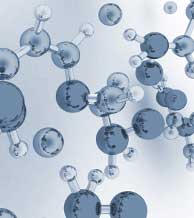 Weight activity (U/mg)=(U/ml)×1/C
Δglucose

: Titration difference (ml) for ten miligrams of glucose (Determine the titration difference by using glucose standard solution (5.0mg/ml) instead of the enzyme solution under the above assay conditions.)

df

: Dilution factor

C

: Enzyme concentration in dissolution (c mg/ml)
REFERENCES
K.Hiromi, Y. Nitta, C.Numata and S.Ono; Biochim.Biophys.Acta, 302, 362 (1973).
J.Fukumoto; Protein, Nucleic Acid and Enzyme, 4, 3 (1959).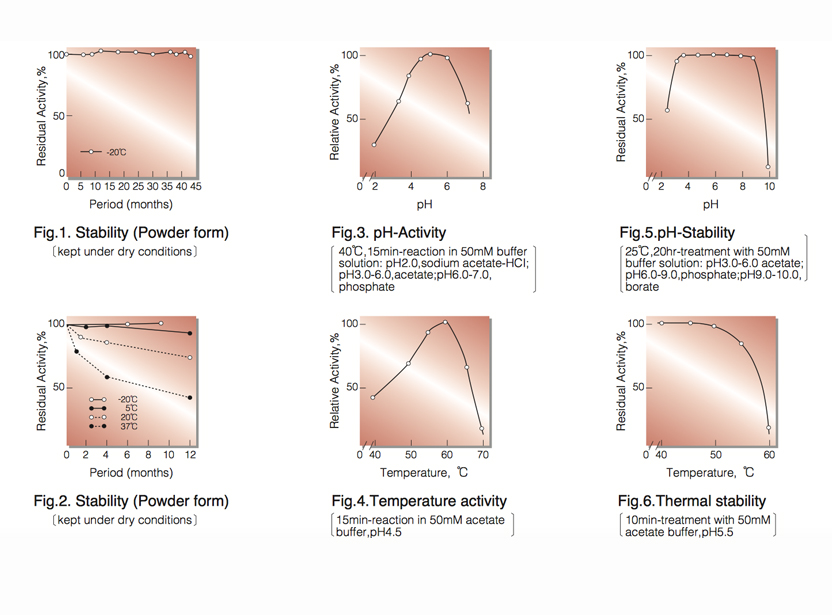 To get a quote, contact us at info@toyobousa.com, or INQUIRY.